13 year old Moose is starting to give me fits. His cruise control just died and I'm starting to worry about safety. I just spent $800 this summer on a new steering pump, timing belt, and 125,000 mile tune up so it's disappointing to see another issue come up.
Besides the cruise control not working, the brakes are mushy, the airbags haven't been serviced at the 10 year mark, the traction control and ABS lights are on, and a couple $220 M+S tires are balding. Oh yeah, the CD player doesn't work either and there's no bluetooth of course! My trusty mechanic of 12 years said Moose is operationally fine. The dashboard lights are just on due to a broken fuse lodged deep inside the control panel that makes it not worth replacing. Still, I have my doubts.
Now that I no longer have a job, I'm having a more difficult time accepting my 1/10th rule for car buying. I introduced the rule to those who still had to work for a living in order to not have to work forever for a living. It seems only fair that someone who is retired should be able to spend more than 1/10th their income on a car since they were able to cross the finish line don't you think?
Based on the 1/10th rule for car buying, I can buy a new compact car. The problem is, I want the latest Range Rover Sport that costs $90,000! I'm not pulling in anywhere close to $900,000 a year so I'm forced to strategize and change my car buying guidelines to fit my desires. See how easy it is to justify our spending choices?
INTRODUCING THE 5% OF NET WORTH RULE FOR CAR BUYING
The 1/10th rule only accounts for one's annual income when deciding on how much to spend on a car. Perhaps a greater barometer to determine car spending is your overall net worth. After all, if you can live in a 100% paid off $5 million mansion and live off $150,000 a year in disposable income you're much better off than somebody who earns $300,000 a year with no assets to speak of.
Based on my net worth by income post, a 30 year old should have roughly 2X their salary in savings or overall net worth e.g. $60,000 annual income = $120,000 net worth. Hence, to keep consistent with the 1/10th rule for car buying and my net worth by income calculations, I think spending 5% or less of one's net worth on a vehicle works very well (5% X $120,000 = $6,000 = 10% X $60,000). The net worth rule for car buying covers those who've retired, are temporarily out of a job, are a stay at home spouse, have a medical condition and can't work full time and so forth.
Let's say you worked for 40 years and accumulated a $1 million net worth by the time you are 65 through diligent savings and investments. You're now living off roughly $60,000 a year from social security, dividends, and a pension. The 1/10th rule says you can only buy a $6,000 car which seems much too onerous for a person of your stature. It's time to live it up a little! My net worth rule provides a guideline for the retiree to buy up to a $50,000 car instead.
Below is the net worth guideline by income chart for your review. As you can see below, a 50 year old person who makes $200,000 a year and has a $2,400,000 net worth should feel comfortable spending up to $120,000 on a sweet Porsche 911 CS instead of just $20,000 on a Honda Civic. Whether he does or not is another matter. If I'm sporting a $2.4 million net worth and $200K income, I'm still driving a $20,000 car, but that's just frugal me.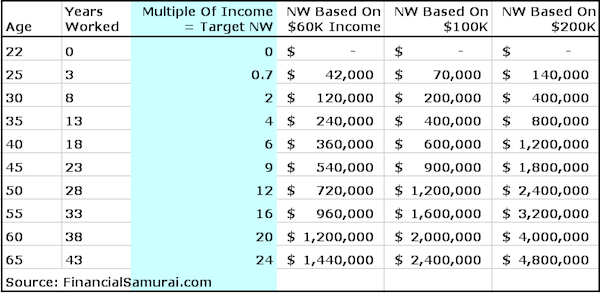 CAR RECOMMENDATIONS BY NET WORTH AMOUNT
Cars are so much fun. I understand every single one of you who salivate over the latest model sports car or SUV. But cars are also the biggest money wasters. Nobody really needs a car that costs over $5,000. Cars built after 2000 are so much more reliable than those building in the 70s, 80s, and even 90s.
The money we spend on cars could be invested in real estate or stocks that will super charge our net worths. I'd like every car buyer to think in terms of opportunity cost when making a decision on which vehicle to get. Every time I think about plunking down $50,000 on a new BMW, I shudder to think how it could turn into $100,000 10 years later if it grows at 7.2% a year.
Basing a car buying decision on one's net worth may actually be harder than basing a decision based on income. Our net worth is a lifetime achievement whereas income is only one year at a time. Are we really comfortable spending 1/20th of our lifetime's work on a depreciating vehicle? Maybe, but that should certainly be the max.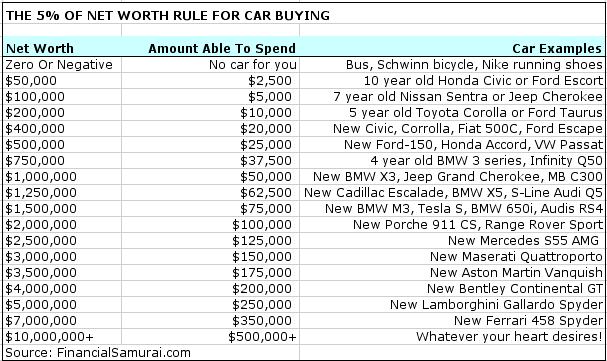 RECOMMENDATIONS
Lower Your Auto Insurance Costs: Check out Esurance online. They have some of the best plans with the lowest rates around due to their lower overhead costs. It's worth spending a moment filling out a quote to see if you can save some money. Car insurance is one of the largest ongoing expenses for car owners. Esurance has good driver discounts, and multi-product discounts as well.
Grow Your Net Worth By Tracking It For Free: In order to optimize your finances, you've first got to track your finances. I recommend signing up for Personal Capital's free financial tools so you can track your net worth, analyze your investment portfolios for excessive fees, and run your financials through their amazing Retirement Planning Calculator. Those who come up with a financial plan build much greater wealth over the longer term than those who don't! I've seen my net worth growth by several million since I started using Personal Capital in 2012.
Updated for 2018 and beyond