After publishing, The Top 1% Income Levels By Age Groups, there were two main responses from the community:
You are surprised how low the top 1% income levels are.
It's not how much you make, but how much you keep.
I'm somewhat in agreement that the top 1% income levels for all the age groups looks a little light compared to the overall median top 1% figure of $380,000 as reported by the IRS several years ago.
But the income levels are all the MINIMUM amounts you need to make in order to be classified in the top 1%. In other words, making $210,000 as a 32 year old puts you in the top 1% for your age group, but so does making $350,000.
Several folks also quibbled whether the income numbers were gross income numbers, adjusted gross income numbers, or reported income numbers. Well of course the income numbers are reported income numbers because reported income is taxable income and all the IRS can go by.
I'm sure there is a huge amount of unreported income that is hard to quantify. In other words, the minimum income figures to get to the top 1% for each age group are also less than what people really make!
Let's Focus On Net Worth Levels By Age Group
For most people, I recommend following my Net Worth Targets By Age, Income And Work Experience post if you want a challenging, but highly realistic guideline for wealth accumulation.
The magic multiplier is 20X. Once you've accumulated 20X or more of your average gross income, you should have no problem planting the Financial Freedom flag in your backyard!
But for those of you who like to continue being challenged, let me share my latest net worth targets by age for the top 1%. After all, the more you make, sometimes the easier it is to go crazy and spend all your money.
This chart possesses the following variables:
1) A top 1% income for all age groups gets rounded up to $470,000 after adjusting for inflation and using the latest data from the Economic Policy Institute and The Washing Center For Equitable Growth. The $380,000 income figure is from circa 2013 data. I use $470,000 for all ages starting at 25 to keep consistent with the overall median top one percent income figure for all tax returns.
2) The top 1% net worth figures are based on my latest net worth target income multiples. I believe most of us can achieve these income multiples if we meticulously track our net worth, invest our money wisely, and spend extra effort earning. One income stream is often not enough.
3) A belief that it's a waste of money to die with more than $6,000,000. The estate and gift tax exemption is $5,490,000 per person for 2017. I'm making the assumption the exemption amount goes up over time to account for inflation. Allowing the government to tax you ~40% on any wealth above the exemption amount is a travesty. Please spend or donate your money to a worthy cause.
4) Everybody will live until the median life expectancy of 80, but we know this not to be true. Hence, if you're fortunate enough to make $470,000+ a year, come up with a plan to live a balanced lifestyle so that in case you do die earlier than expected, you'll have at least lived well.
Here's a variation using the different income levels by age required to be in the top one percent as reported by Professors Guvenen, Kaplan, and Song and adjusted for inflation since their 2013 report for 2018.
It's unreasonable for a 25 year old or 30 year old to make $470,000. Therefore, it's good to look at one a top one percent income level is for each age group. The methodology below is a more precise way to measure the top one percent net worth given wealth is relative to age.
After the age of 65 and $11,750,000, it doesn't really matter what you do with your money. Again, just make sure you donate any money over the $10.9M estate threshold to good causes so you don't pay a ~40% estate tax on anything over.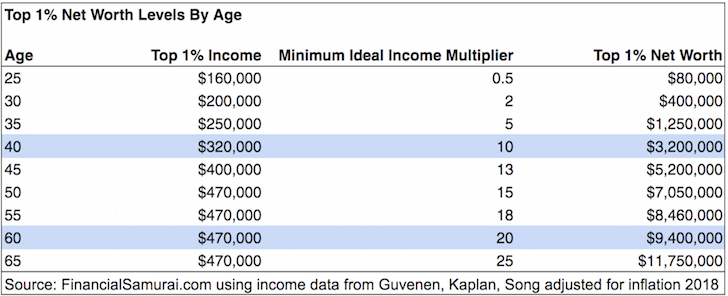 Net Worth Chart Analysis
The more you make, the easier it should be to save and grow your money. You only need so much for food, clothing, transportation, and shelter. Everything else is discretionary, which means it's up to you to be disciplined. If you make over $400,000 a year and can't save at least 30% of your gross income, then you've probably got a spending problem.
There are certainly those who make top 1% income who are living with a lot of money stress. But such stress is largely self-inflicted. Lifestyle inflation is almost an inevitability once you start making big money. This is why paying yourself first is a must no matter how much you make.
What's nice about my 20X income multiple is that it really doesn't matter how much you make to achieve financial independence. At each level of income, we will learn to live within our means. With a top 1% income, you've got a lot more flexibility. If you choose to maintain a top 1% lifestyle, then $8,000,000 is a realistic net worth figure to shoot for.
A $5,000,000 net worth is the #1 vote getter in the FU money poll, which asks how much money you think you need to feel financially free. But $5,000,000 is 50X the rough median income of 17,800+ entries in my income poll. People are actually overestimating how much money they really need to be financially free by a 30X multiple!
Since I left the work force in 2012, I've discovered I overestimated how much I would need in retirement by roughly 30%. We have a tendency to overestimate what we need because we fear the unknown. We also forget that once we retire, we no longer need to save for retirement! Almost every other retiree has told me they also overestimated how much they needed.
Get Motivated
Whenever I lack motivation to grow my net worth, I like to jog around the Gold Coast of San Francisco and check out the $20 – $50M mansions that line Pacific Avenue. I know I'll probably never be able to afford such nice places overlooking the Bay, but I still find inspiration in the success of others. Every single homeowner on the Gold Coast is an entrepreneur.
When you review my charts, I want you to get motivated as well. The net worth target figures are for those making $470,000 or more. How cool would it be if you made much less but still managed to reach or surpass these net worth figures? There's a myriad of ways to grow your net worth because there's an endless amount of money waiting to be claimed!
Manage Your Net Worth Like A Hawk
One of the best ways to manage your net worth is by signing up with Personal Capital. I've used their free tools since 2012 to easily track my net worth and it's made a world of difference. Before, I would input 25+ accounts in a spreadsheet and update the amounts every month. After linking up all my accounts on Personal Capital's dashboard, everything is automatic.
It's important to track your net worth in order to optimize your net worth. You want to have a balanced distribution of stocks, bonds, real estate, risk-free assets, and alternative investments to weather the storm. The free tool also allows you to analyze your investment portfolios for excessive fees, calculate your retirement cash flow to see if you are on track, and manage your day-to-day cash flow. Take an active approach to building your wealth.
Updated for 2020 and beyond.